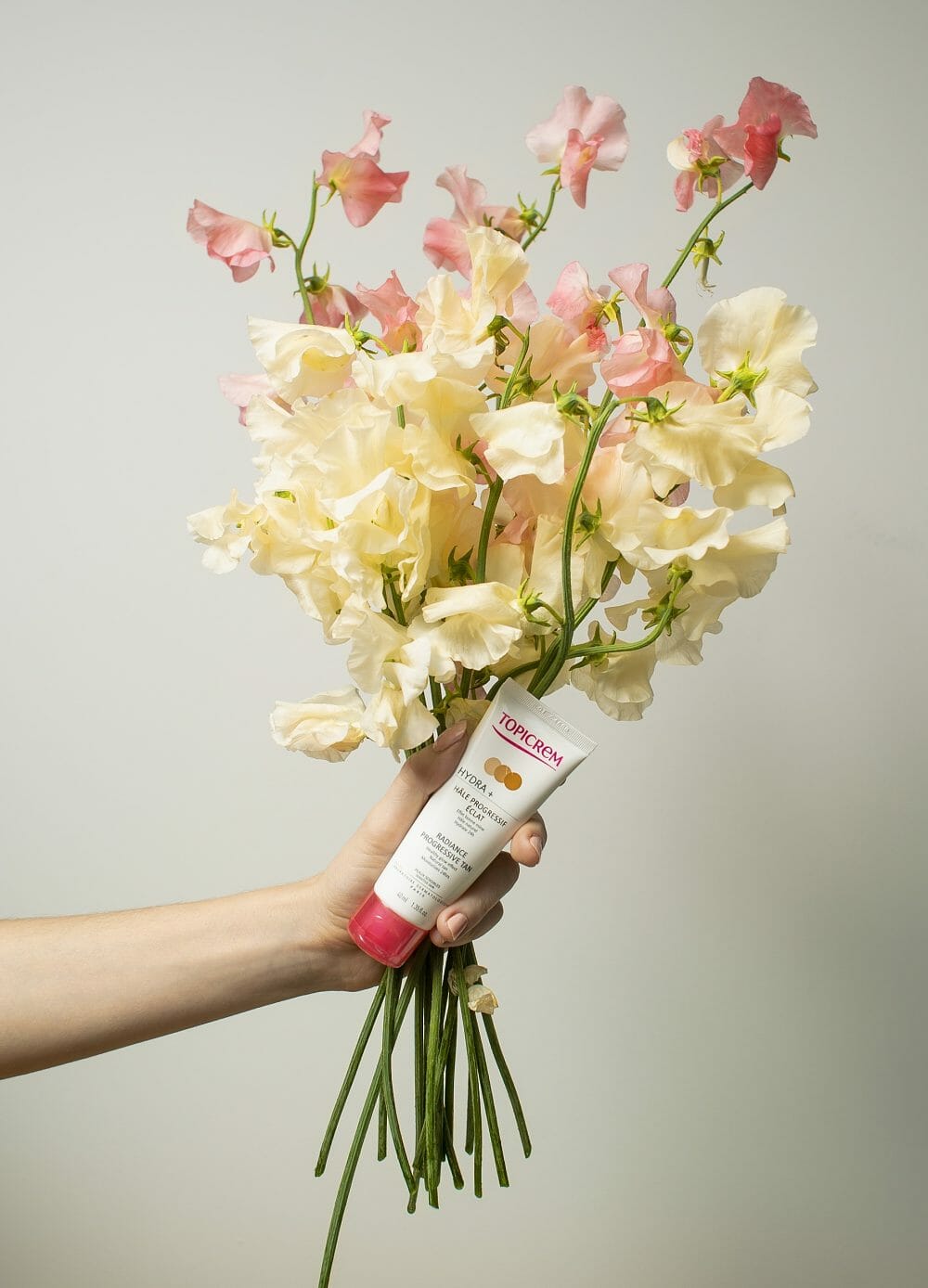 Fake tan for the faint of melatonin
I know I'm not alone in my phobia of fake tan. On set I use loads of different types of instant formulas, wash offs and body make up, but at home I live in fear of orange creases, drip marks, mismatching tones, over application and stinking like a freshly opened pack of McVites, but maybe the real problem is I'm scared of loving it and the unrelenting upkeep of a new beauty chore. 
I've decided this is the year I face my fake tan fear. Dipping my toe in the river, I want to start with a lighter option, I started to look for formulas that are light,  gradual and low maintenance. So far I have to say, the first stage of my research has been fruitful, I've found a firm favourite, and option to step it up and a first step towards full coverage. I'm going to carry on with these and then try out some recommendations for something a little more full on. Let me know if you have any favourites!
The Cream
Topicrem Hydra + Radiance Progressive £14
France is my one stop shop for all things summer skincare. I find that across the board French pharmacy skincare is light, moisturising, never heavy and delivers expert protection. Whilst this gentle face tan doesn't provide any sun protection, it feels like a cream/serum hybrid, that slips on the skin effortlessly. I noticed a slight change in colour from first application, but nothing that really noticed. It left a healthy soft focus feel to the skin but most importantly it felt incredibly hydrating. I popped on a little bit of tinted moisturiser over the top and the next day (after two cleanses) I could still see a bit more of a slightly developed colour. Nothing that would draw attention but enough that I felt my skin had a healthy-ness to it without the need for any base product. Overall, easy to apply, builds considerable colour with more applications and comes out as a warm glow. Only cons are that it is particularly pungent when first applied- somewhere between sun cream and hob knob- and with good many applications too quickly does lean towards the orangey side of the tan chart- low maintenance use is best.
The Serum.
Hylamide Glow Booster £17
This one has been that make up relationship- a lot like a new boyfriend- where you struggle, nearly give up, change your approach and finally fall in love, we've all been there right? This seemingly simple serum is a little more complicated than it looks. A couple of drops, applied after cleansing and before moisturiser, wake up in the morning with a sun kissed glow was the idea I had when first using it. However, this approach left me with a blotchy application, stained fingers and a darker than expected colour, I wasn't impressed. I tried a few times- in between glycolic acid pads- and was moments away from giving up on it completely when I had that moment, the daunting realisation, it was me that was the problem. Like a lot of relationships I had jumped in head first, wanting too much too fast and come out being a bit of a mess. This serum is best used slow and steady, a couple of drops in a lightweight moisturiser applied evenly from forehead to collar bone, every three or four days leaves you with a lovely sun kissed warmth. A bit more maintenance than the option above, but easier to control the colour pay out, add more drops for a darker complexion but proceed with patience and caution. 
The Overnighter
James Read Sleep Mask £25
This is the most simple option because you get what you're given, and to be fair, I was given a real dose of healthy tan. You pop it on the night before, go to bed, and with the excitement of Christmas morning, check in the mirror the next day to see what has developed. It's the Polaroid camera of fake face tans. I was nervous that the colour might be a little dark or the application may have smudged in my sleep, but neither was the case. I woke up with a deeper colour and regret that I hadn't applied it all the way to my bra line. This is the easiest of the three but you do relinquish control of building the colour over a couple of days. If you are super pale like me, one application is more than enough and  then see how long it takes to fade (I found just under a week and a good chemical exfoliate was the end of it) before reapplying again before bed. The only negative I have is that a second application in a week would have been far too dark, so it's a bit trickier to maintain, but much easier to add into an already hectic beauty routine.